This is you, me, a massive roll of paper and some Sharpies (big fat coloured pens, to the uninitiated). And tea and chocolate, obvz.
It's loosely based on Tony Buzan's Mind Mapping idea, or pyramid / spider diagrams. I use your map as a coaching tool as the session unfolds, and you add to your map as you start to unlock your own genius.
We decide on our theme to put in the middle of our paper, you start writing / doodling / drawing circles, whatever - it can be as informal as you like - I had a farmer doing this once who just drew an enormous pile of poo on one side of his sheet, but it said an awful lot about how he felt at the time!! Some people are very artistic and draw very pretty pictures, others are wordsmiths, and some literally explode messily onto the paper (like my son did when we were planning his personal statement for university) As a coach, it gives me a very privileged window into not just what but HOW you are thinking, and as a result makes the coaching extremely effective. It really helps you sort your life out so you can SEE where you are going in your mind's eye (and where you have been).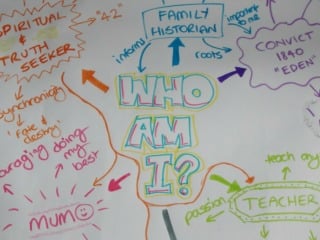 Colour Mapping is also very useful as a tool to aid planning your affairs, designing business strategy, training and skills programmes or mapping out big projects or pieces of work. The bonus of doing this with a coach is that you get a bespoke coaching service AS YOU WORK, just at the point where your brilliant ideas are conceived. Working with a coach, you won't miss anything - in fact you will be encouraged to examine far more aspects and details of what you are dealing with than you might if you were left to your own devices.I have oodles of paper so you can do as many of these as you like in a session, and take some paper home with you too. The sessions usually last between 2 and 3 hours. Come in messy clothes!
"I came to Liz for coaching as a last resort, after Relate and other self-help stuff I had tried. I really needed something to start working for me. Liz impressed me straight away with her ability to uncover and deal with the real issues that were holding me back. I felt comfortable enough to be brutally honest. That's when you become a partnership and can really move forward. Liz also gave me permission to cut myself some slack - that was such a relief!
I got a real sense of freedom through coaching and as a direct result, I left my crappy job and nightmare boss, went back to college and now run my own successful and highly rewarding business. My self-confidence has soared. I have a new car, a new house and a new life."
Vanessa Welsh, Massage Therapist